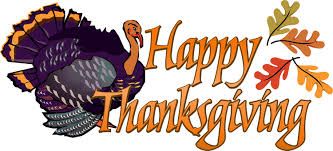 Thanksgiving is one of the most amazing holidays of the year, many people love it because they can have days off, a yummy turkey, and most of all because it's the time of year that we are able to look back at our progress in these past few months and be grateful of how blessed we are. It's the little things sometimes we take for granted like a breath of air, seeing the sun, watching the stars coming out to dance, being around those you love, and so much more.
There is so much to be thankful for that we should always appreciate what we have, because when its gone those little things become the big things-the most important in one's life. This holiday is about being around the people you love, whether it'd be friends, family, or even your pet, and to remind them how much you love them and that without them in your life, it wouldn't be as exciting and fun as it is without them.
Thanksgiving brings a wonderful feeling with its weather, autumn leaves, and just the sense of happiness that fulfills our hearts and the air we breathe. But, it also brings a sense of believing. Believing that throughout the challenges we had through the year, there is a reason we overcame them. That we still have a journey to complete in the world and to keep striving towards our goals to make our dreams come true. So be happy today and every day, set the table and enjoy your turkey, have fun with family and friends, laugh with them, tell stories, and don't forget to tell them you love them very much and are thankful to have them in your life.
Have a safe and Happy Thanksgiving and take some safety pre-caution if you're traveling like:
Avoid wearing expensive jewelry or carrying large amounts of cash. Whenever possible, use credit/debit or checks.

Park in a well lighted space and be sure to lock and secure your car.

Don't leave valuables in your car. Covering items to hide them does not work either as it may only draw attention.

If you must leave valuable items in your car while out and about, place items out of sight before reaching your destination or move them inconspicuously. Someone may be watching when you put items under a seat or in your trunk.

Be extra careful with purses and wallets. Carry a purse close to your body, not dangling by the straps or sitting in a shopping cart.

Try to shop with friends or relatives. There is a safety in numbers.

Shopping with kids? Teach them to go to a store clerk or security guard if you get separated.
What Are You Greatful For Today?